This PA of the Day is from Stephen (Dr. PsYcho Boom) Regier.
Stephen submitted photos of the first real world test of the new Big E Loudspeakers WT8 (patent pending) Manipulated Vortex Waveguide line array system. This test rig consisted of four WT8c mid-field elements, an LC8 mid-field/down fill cabinet, 5 Lil'E 12″ subwoofers per side of the stage and two Lil'E 21″ subwoofers under the stage. Run on five Crown XTi4000 amplifiers, this rig filled the 10,000 person capacity venue with "powerful, accurate, pleasing sound."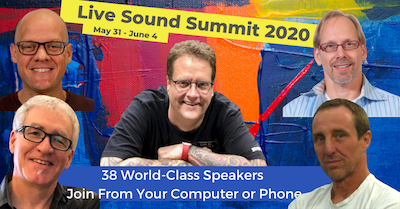 More from Stephen: "Their high efficiency, smooth response, and wide even dispersion gave the sound engineers the flexibly, tools, and headroom allowing them to be free to concentrate on creating the perfect experience for each act. There were many comments from attendees that the sound was magnificent and pleasing: not harsh and painful. SPL level at ten feet from the cabinets was 108db, 104db at 100 feet, 98db at 200 feet, 95db at 150 yards, 83db at 250 yards with 160 degree dispersion at half power."
See more Medium PA systems.
Check out more Big E Loudspeakers systems.

Share Your Thoughts