This PA of the Day is from Karl Wienand.
2011 Frankfurt ProLight & Sound in Frankfurt, Germany.
Karl submitted a couple pics of a K-Array KR400 system which was used at the 2011 Frankfurt Pro Light & Sound. Each side contained five satellites (each one houses 12 x 3" Neodymium Speakers with a 1" voice coil) flown above & driven by 4 Subwoofers (21" Neodymium Speakers with 3" voice coil).
Karl writes, "The system blew perfectly all the way to the blue seats @ 80 meters, even with side winds. You wouldn't use this kind of a PA for AC-DC, but rather for Corporate and Trade shows as well as for Jazz concerts, Bars and similar conditions. It's really an unbelievable size to volume ratio and a very easy and fast set up… light weight – no space – discreet design – great sound – hideaway PA!"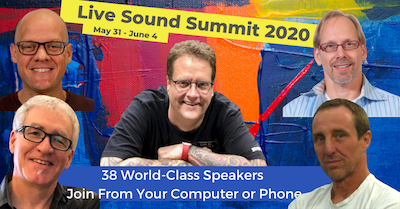 See more Small PA systems.
Check out more K-Array systems. 

Share Your Thoughts