This PA of the Day is from Kevin Tyrrell.
Kevin writes: "Here's a set of pictures of the very famous McCune JM-10 system. The JM, of course, stands for John Meyer. The pictures were publicity shots of the Kool Jazz Festival and the rig up inside its scaffold flanked by 4 of the equally famous JM-3 speakers as side fill. Also shown is the amp rack, making use of Crown DC300A power and proprietary processing. Anyone who heard this system walked away shaking their heads in amazement. This rig filled a stadium with ease. You really had to see and hear it to believe the punch it delivered. Easily 10-15 years ahead of its time in quality and punch for its size."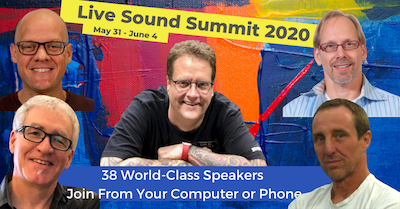 See more Big PA systems.
Check out more systems from McCune.

Share Your Thoughts