Whether you are new to live sound or if you have been doing it for decades, it's important to keep learning. Technology is always changing and we should keep up with it.
If you are a busy audio technician jumping from gig to gig, sometimes it's hard to find the time to catch your breath! Maybe you are just starting out in the industry and picking up a little from the veterans on each gig but feel like you should be learning more than you are.
Busy schedules and distractions keep us from making the time to learn and stay up to date.
Do you ever feel like you are getting left behind? I mean, not all of us can fly around the country attending trade shows and manufacture training sessions.
We'd like to tell you about the "Live Sound Summit", happening ONLINE Sunday and Monday, June 2nd/3rd, hosted by live sound engineer, author, teacher, and coach Nathan Lively.
Nathan Lively is the host of the Sound Design Live podcast where he interviews industry experts about all things live sound.
Once a year he brings together the best of the best to offer a 2-day online (watch from anywhere) summit with 17 different presenters over 2 days (16 hours) for the Live Sound Summit.
Join live from your living room, kitchen, or favorite coffee shop on June 2nd and 3rd. Interact with other attendees, get your questions answered, and with the optional All Access Pass, watch the presentations over and over, or watch them later if you can't make it live. Plus with the All Access Pass not only can you watch the session later, you get all the slides and handouts.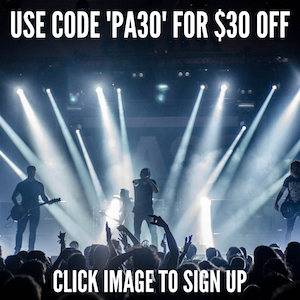 Here's who is speaking and what you'll learn at the Live Sound Summit.
Robert Scovill will be sharing his experiences from his 35-year career working with Tom Petty & The Heartbreakers, Matchbox Twenty, Jackson Browne, Rush, Def Leppard, and Prince.
Hear from Pat Brown, the head of SynAudCon, who has taught thousands of audio engineers things like "The Core Principles of Audio", "Sound System Design", and "Equalization Demystified".
Nicholas Radina, Touring Monitor Engineer for O.A.R., will be teaching "Monitor World IEM Mixing Tips and Techniques".
Nervous about networking? Bodo Felusch will be teaching the session "Don't panic! …it's only a network".
Wireless Microphone Training
Wrangling wireless microphone and IEM systems is something we can all improve our skills with, right? At the Live Sound Summit hear from the founder of rfscans.com, Pasi Manninen. His talk is titled "How to Share and Interpret RF Spectrum Data".
Ever wonder what "The 7 Most Common Problems with Wireless Mic Systems, and How You Can Solve Them" are? Well, Karl Winkler, the VP of Lectrosonics should know, and he's going to tell us!
Alex Milne, the Co-Founder of Terraband, Inc. and founder of the RF Venue Blog will also be talking about all things RF.
System Design and Tuning
System design and tuning will be covered extensively by the following speakers:
Arthur Skudra, Smaart Trainer and Consultant at Sightsound Consulting.
Thomas Neumann, Creator of SATlive and LevelCheck teaching on Dual-FFT Measurements.
Explore "System Tuning for Concert vs Theatre" with Alex Ritter, Master Sound Engineer at the Guthrie theater and System Engineer on the Lynyrd Skynyrd Tour.
Check out this steller list of other speakers:
Darryn de la Soul, the founder of Soulsound, delivering the Keynote
Alex Fiennes, Senior Developer at Vypr
Michael Krieg, System designer, technician, and operator talking about "How to Select an Amplifier"
Stephen Pavlik, Touring Monitor Engineer and RF Technician for Eli Young Band
Aleš Štefančič, Monitor Mixer for Siddharta and Independent System Consultant
Jon Burton, FOH and monitor engineer for Radiohead, Suede, Pulp, Stereophonics, and The Prodigy
Ken 'Pooch' Van Druten, FOH engineer for Travis Scott, Iron Maiden, Jay-Z, and Justin Bieber
Scott Adamson, FOH for Passion Pit, Haim, Matt Kim, St. Vincent, and Sleater-Kinney
And last but not least you can hear from Dan Dugan about his legendary auto mixer!
It's time to set some time aside to meet and hang out with some fellow audio humans. Learn a whole bunch of things that will help you succeed in this industry and build your confidence for the next time you are designing a system, setting up wireless mics, mixing your next event, or talking shop with the crew.
The cost to attend the Live Sound Summit before the PA of the Day discount is only $77. The All Access Pass includes all recordings, slides, and handouts is just $177 before the $30 off.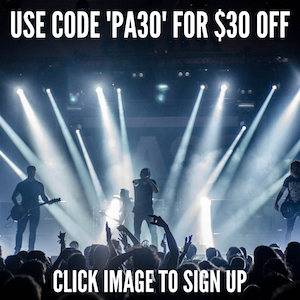 Share Your Thoughts