This PA of the Day is from David Friedman, who submitted it with permission from Shaun Clair. Additional information from designer Jim Brawley.
From David,
"August 16, 1986, Prism Sound System, Showco, Inc. Dallas, Texas…
The Prism sound system was just rolling out of Showco's woodshop commanded by Gary Taylor. So, we started the laborious process of stuffing JBL components into the Prism cabinets. It was a system like no other… designed by Jim Brawley and Clay Powers. The first time I looked at it… I could not make sense of the baffles. Once Clay Powers explained how it all fit together… it was like a haiku moment… what some refer to as a single point source system… and others later thinking more in terms of horizontal line arrays…
It may be the many times that… once the rig was hung in a venue… we had to hide under packing blankets removing those damn Magruder screws… in order to swap-out blown components in secrecy… or… perhaps it's simply a reverence for days of yore; but, thought some may find this bit of sound innovation of interest.
Photo of the Prism baffles (that at one time were highly confidential and secured by Magruder Screws) distributed with permission from Shaun Clair, Clair Brothers (who now own the, now outdated; but, classic, Prism sound system as a result of Clair Global's acquisition of Showco in 2000).
Thank you Shaun Clair for enabling what for some may be a nice flashback… and for others… what may be the cause of their random convulsions."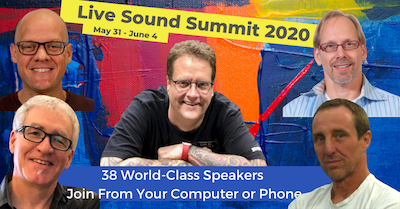 Detailed information from system designer Jim Brawley.
Now that the veil has been lifted some may wonder WTF is going on. The array acoustics were developed using a software program written by George Augspurger for the Apple 2 computer. I used this tool to create the vertical loudspeaker arrays shown in the photos. It provided polar response calculations, and axial frequency response plots from an array of simple sources. This software was crucial to the analysis needed to build a loudspeaker array that met specific polar response requirements for even distribution of sound for 20,000 seat sports arenas.
Through many simulation experiments we discovered that grouping an array of woofers at one end of a line and placing the "steering" driver at the top of the array provided a specific polar pattern. The final result presented a pretty good 6:1 throw ratio (far to near seat) that matched the needed vertical off axis attenuation for large hockey arenas. We called matching the loudspeaker polar response to the seating geometry "Reverse Architectural Mapping". The first version of this LF array was deployed in the Showco AX system. The AX was the stopgap system between the Showco Pyramid and Prism.
The spaced LF array allowed a convenient gap between the bottom 3 woofers and the steering woofer. A scaled version of the LF array was created using custom 8" JBL drivers for the midbass range. Crossover to the LF was about 200Hz. The HF was standard JBL 2300 series horns stacked and vertically splayed to match the vertical pattern offered by the LF/MF section. Custom Community horns on JBL ring radiators were used for VHF.
The horizontal curve was also simulated using the same array analysis software. Options were simplified to two arcs joined in the middle of the array. The narrow long throw inside section provided 50% overlap on 40deg horns. The outside arc for side coverage provided edge to edge coverage of 40 deg horns. The "Wagon Wheel" looking grid defined the horizontal arcs. The array was scalable using different versions of grids. The arena prototype size was 4 high x 8 wide. For stadiums more LF was put on the bottom of the array, and HF enclosure put on the top of the array for up to 6 high x 14 wide.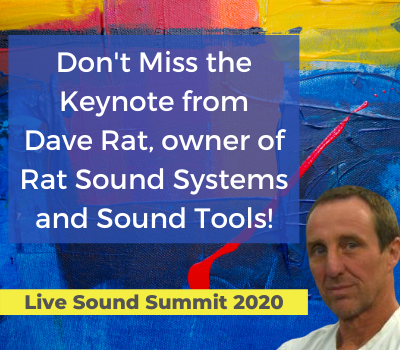 The clever part of the result was that arena coverage was controlled by array geometry, and not DSP steering technology used in some contemporary systems. Showco liked to keep that part secrete as well.
There was also a full range version of the box called the Blue Cabinet that had all 4 bands in one enclosure. The was used for smaller venues and front fill for arena and stadium shows.
Clay Powers led the Prism development team. I was proud to be part of that team as a loudspeaker and acoustic design consultant to Showco for 17 years. Great and exciting work from all involved. Thank you for the opportunity to work with you all on this project.
An example of how the Prism speakers were rigged for outdoor application.
Below is a graphic representation of how the Prism speaker cabinets fit together for a standard in-door hanging configuration. 4 cabinets tall by 10 columns wide.
For illustration purposes the facade of the speakers are laid-out in a flat manner; but, these speakers hung in a curved manner on [Lester] Burton Bumper rigs.
An example of the Prism speakers configured normally for arena rear-fill; but, in this case… Benji LaFave is using it for a small shed PA system on the George Michael tour.
View of how the Prism speakers stacked-up nicely for outdoor application. Note how the cabling runs through each speaker cabinet.
See more Big PA systems.
Check out more PA systems from Clair Brothers.

Share Your Thoughts